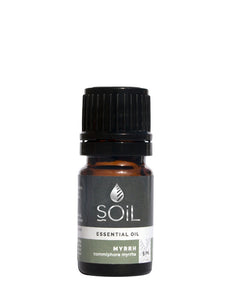 Endorsed by Beauty Without Cruelty
Botanical name: Commiphora Myrrha
Part of plant used: Resin
Extraction method: Steam distillation

Description: Myrrh is the gum collected from the myrrh bush and the oil is steam distilled from this resin. Myrrh is one of the oldest known aromatic substances. It is well-known for its antimicrobial properties and is used in the treatment of mouth, gum and throat. It also instills a deep sense of calm and tranquility on the mind. The essential oil is a dark brown essential oil with a warm, rich spicy odor.

Precautions: It is contraindicated during pregnancy.  Should not be used when pregnant.

Ideal uses: Massage, bath and inhalation.  

Co-blenders: Frankincense, Lavender, Palmarosa, Patchouli, Sandalwood, Tea Tree and Thyme.

Perfumery Note: Base.

Fun fact:
Myrrh was used by the Ancient Egyptians as an important ingredient in embalming.
Available bottle size: 5ml.

No Animal Testing     
No Parabens     
No Petro-Chemicals   
No Synthetic Colors      
No Synthetic Fragrances